Article Regarding Hills
District Termite Inspections
If you are living anywhere in the Hills
district and you are yet to have a termite inspection conducted then you might
be in for a very nasty surprise. Recent statistics have shown that within the
Sydney region one in three homes at some stage have a termite presence on their premises!
Living in the Hills region of Sydney only
increases this risk as termites are big fans of the Gumtrees, living within 100
meters of bush land severely increases the likelihood of termite activity near
your home or even inside your home. For most people the most
off putting aspect of getting a termite inspection conducted is the
daunting cost of it. At A1 Pest Control we're happy to offer very affordable
price point on our inspections and can offer two different options suiting your
budget and property. More information on our Thermal Termite Inspection and
Visual Termite Inspection options. 
Our firm's pest controllers have years of
experience in pest control and have specialized in termite treatments and
inspections. In the past years we have actually found that even homes built
with "ant caps" or "Termimesh" can fall victim to termite infestations and
extreme termite damage. (The worst thing about termite damage is that none of
it is covered by any home insurance policy within Australia) The main cause of
infestations in homes that have either of these forms of preventative measures
is due to builders that are neglectful and leave loose form-work and even
structural timbers in contact with the ground.
Over time these pieces of timber seep CO2
into the soil which is what alerts termites of the timber, their delicious food
and building material! This means that even if you've set up termite monitoring
stations, (check this link if you need more information on termite monitor/bait
stations), termites can still be lured into your home if there is any loose
timber lying around in your sub-floor, leading them straight into the heart of
your home!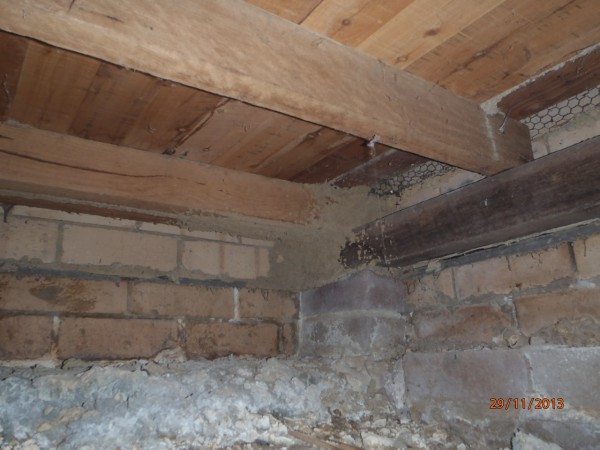 We've also come across homes that have
severe soil buildup and clay that surpasses the "ant caps", rendering detection next to useless. When there is severe soil build up
or clay build up it allows the termites to go straight past the ant cap
and into your structural timber. It's always hard to let a homeowner know that
there is damage in their sub-floor or structural timber when they've previously
invested in termite detection or prevention methods.
As such we advise strongly for 6 monthly
inspection if you live in an area of Sydney where there is a high risk of
termite attacks, or 12 monthly inspections if you reside in an area of Sydney
that is further from bush land. Termites have had millions of years of development that has
made them very adept at overcoming any obstacles and getting to that tasty timber!
When we treat a property with a preventative barrier we offer a 5 Year warranty
which includes the free dusting (treatment) of any live termites repelled by
the barrier and found on your premises.
0417 251 911 | bruce@a1pestcontrol.com.au
Ring up on 0417 251 911 to ask any
question about Hills District Termite Inspections or to book in for an
appointment. Alternatively you can contact A1 Pest Control via email:
bruce@a1pestcontrol.com.au