Termite Extermination
"Termite extermination is an expensive process, but the cost is well justified when it can save your household or business!" – Bruce Gow
Information for Homeowners
Do you suspect you have an infestation of termites on your home or property? If you do, then termite extermination will be a significant but necessary expense if you wish to save your home from further damage. For fast action and a free quote today call Bruce on 0417 251 911 or send an email to bruce@a1pestcontrol.com.au
It's an unfortunate fact that termites are able to chew their way through a wooden roof structure or wooden floor in a matter of months so if your home is infested, arranging a quote promptly may save you the equivalent (or more) of the cost of the termite treatment.
How much does it cost?
The cost will vary depending on the size of your property and the severity of the infestation. Quotes may vary too, from one firm to another. For the average home, most quotes for termite exterminations (in Australia) are likely to be in the range of $2,500 – $5,000.
Yes, it does sound expensive however, diligently locating the areas where termites are active in your home, searching nearby for the termite colony responsible, and applying the termite extermination treatment takes time. Additionally, quality products such as Termidor are more expensive that outdated ones.
If you have a termite infestation, there really is no alternative to chemical control or baiting by professionals. Delaying treatment could end up costing you several times more than the cost of the treatment, and in a relatively short time.
If your home or business are infested with white ants, the best you can do is ensure that you're getting an effective treatment and the best value for your money.
How to get value for money with termite extermination
There are two components to effective treatment – firstly, the confirmation of an infestation and location of the active termites; and secondly, the control and management of same. Your termite expert should have four goals:
1. Locate termites and undertake treatent in and around your home using the best detections tools;
2. Locate and exterminate the colony (if possible) that is near the home;
3. Educate you about termites and advise you on appropriate treatment and action that may prevent of future infestations;
4. Lower your costs by placing control measures exactly where the infestation is located via Thermal Imaging Camera and Termatrac termite tracking tools.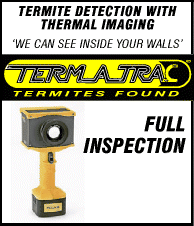 There are several qualities you'll want to look for in your termite extermination expert to ensure you're getting a quality service for your money. Naturally, he or she should hold the relevant timber and pest control qualification.
Choosing a technician who has invested in the latest termite detection equipment – like thermal imaging cameras and Termatrac – will also be to your advantage.
Thirdly, thorough termite extermination should, wherever possible, include locating and taking steps to exterminate the colony of termites that has been invading your home – and this may be up to 100 metres away from your home. Your termite extermination expert should be prepared to search for the colony as exterminating the source of a termite infestation goes a long way towards preventing future infestations.
You'll also want to ensure that your termite extermination expert is using up to date high quality products, rather than older products, or unsuitable products that may less effective.
The good news is that if you arrange your treatment promptly and before any major damage is done, a thorough treatment, combined with preventative measures and regular termite inspections in the future may prevent your home requiring expensive repairs in the future.
Call A1 Pest Control on
0417 251 911
today for some free advice on termite extermination for your home or business or email
bruce@a1pestcontrol.com.au
.