A1 Pest Control Warranty Page
Are you located in the Sydney, NSW area and searching for pest control?
A1 Pest Control has been operating in the Sydney area for 40+ years dealing with cockroaches, termites, ants, insects, rats, and mice. No matter your problem we have you covered with our fast affordable service, with over 150 happy customers on our Google business page, A1 Pest Control are your go-to pest control service in the area.
A1 Pest Control uses low-toxic and non-toxic pest control methods and personalized treatment plans that will get rid of pests in your house and will protect against near future infestations from taking place.
A1 Pest Control Services
We are just a modest family-owned firm, & have always survived in business by a straightforward "secret". That's giving our clients exactly what they are looking for– dependable and trustworthy service at a cost-effective price.
Your "peace of mind" is our task! We have been very successful at treating pests such as Bed Bugs, Bee Removal, Termites, Spiders, Cockroaches & Ants, with our safe and low toxic treatment options.
Warranty for Our Services, Inspections and Reports
A1 Pest Control Warranty Terms and Conditions
Copyright 2023
Residential & Commercial Pest Warranties/Termite Inspections and Treatments
Search Engine Guy Trading as A1 Pest Control (ABN 64084223405) agree to provide Service/s and Report/s at the location described for the Fee set out as per the booking, in relation to only those pests specified in the areas described in the Inspection/Treatment Report and subject to these terms.
All furniture is excluded from treatment unless specifically specified and detailed by the Client to the technician/office staff on the day of booking or at the premises on the day of the treatment.
The Client will receive all the relevant documentation on the day of the pest management service or it will be forwarded to the Client at the email address specified by the Client.
Access to Treatment Area
The Client will provide full access to the specified areas for the Service agreed upon between the Client and A1 Pest Control, for the specific day and time scheduled. The Client will provide access to water and electricity on the day, if required by A1 Pest Control technician, to complete the Service. A1 Pest Control personnel will show identification to the Client upon request and comply with all reasonable requests while at the premises.
Pest Inspection
The Service will comprise a visual inspection only limited to those areas and sections of the property fully accessible and visible to the technician on the day of the inspection. Clients should note that in occupied premises, furnishings and household items may conceal evidence of timber pests that are only be revealed when items are removed.
Pests Covered during Treatment
A1 Pest Control will cover only those Pests specified included in the Pest Treatment Report/Documents. All references to termites mean subterranean termites species only. Please note that the treatments do not cover the control of dry wood termites, fungus, wood decay, damp wood termites or any other condition not specified in the documents.
Service Call and Guarantee
The Service Call is subject to the Specific Pest Treatment Warranty in accordance with the period advised and confirmed by A1 Pest Control technician in the Treatment Report/Documents. It is the Client's responsibility to contact A1 Pest Control on 0417 251 911 immediately once they notice any signs of pest activity and other relevant information. Service calls will apply unless A1 Pest Control has not received the full payment for the treatment/s.
*Service calls over weekends will incur a $65 call out fee.
• Termite Treatments that use the chemical Termidor include a 5-year warranty, subject to follow up termite inspections.
• A general Pest Control treatment is for cockroaches, silverfish and spiders. Please note that the warranty for this treatment is 6 months for an internal treatment and does not carry a warranty for spiders externally.
• A1 Pest Control's ant treatment carries a 6 months warranty period subject to environment and is at the discretion of the technician.
• Rodent Treatments – 3 months warranty period subject to environment and is at the discretion of the technician.

The above warranty is only valid if there are no changes made to the perimeter of the premises.
Safety
The Client agrees to follow any safety instructions provided by A1 Pest Control technician on the day. The safety instructions will relate to any pesticides and safety thereof for the inhabitants of the premises, visitors and any pets.
Treatment and effectiveness
A1 Pest Control will deliver the Specified Service in a competent, efficient and professional manner. The effectiveness of treatments also depends on the Client's integration and maintenance of good housekeeping conditions in and around the premises including implementation of any A1 Pest Control recommendations. Any disturbance to adjacent garden areas, building alterations, renovations and introduction of pest favoured materials may render the treatment ineffective.
Damage to Underground Services
Any drilling, cutting or invasive treatment required during the Service delivery on the day will only commence with permission from the Client and full disclosure (by the Client) of locations of all utility services including water pipes, sewerage and drainage pipes, telephone cables, gas pipes and other services. A1 Pest Control will exercise due care in performing these invasive services but the Client will be liable for any damage caused by, or resulting from the invasive treatment/s unless due to gross negligence by A1 Pest Control.
Termite Inspections and Pre-Purchase Property Inspections (PPI)
All timber pest inspections (whether there are in accord with either AS 4349.3-1998 or AS 3660.2-2000 including "Thermal Termite Inspections") and will be taken to be non–invasive visual inspections & will always be limited to all areas and locations of the client's property for which Reasonable Access (see below for our definitions ) may be available and permissions are given to enter the said property on the given date and time of any Inspection.
The pest inspector may at times utilise a probe, termite donger or a screwdriver in order to tap and sound structural and non-structural  timbers.  The inspector may also utilise a sharp knife if required to perform 'splinter testing' on suspected structural timbers in areas with signs of major damage in the sub-floor or roof areas that are visually accessible. Splinter testing WILL NOT be performed for a a purchaser who has NOT been given written permission by the owner.
The inspector of the property may use at times a moisture meter in order to check suspected high levels of moisture in wet areas or in close proximity to showers, baths, washing areas etc.
The moisture meter won't be utilised in other areas unless the inspector suspects that it may be required to further investigate the area. Any moisture readings of 0-15% are recognised as being quite normal. Moisture readings in excess of 15% indicate that the surfaces may require further investigation. Levels that have risen between 25-30% moisture content could indicate to us that water is gathering and remedial work is necessary.
Days of high humidity will hamper readings and give unrealistic indications.  Therefore moisture content using moisture meters are only approximations according to environmental factors.
The pest inspection WILL NOT automatically involve invasive inspections which includes breaking apart, removing, cutting or moving stored items and furniture.
This will include, but not limited to;
Roofing materials

Internal wall and ceiling linings

Vegetation and foliage

Mouldings

Insulation

Wood chips

Debris

Sarking

Ducting

Sisalation

Flooring

Wall covering

Fixtures

Pavers

Appliances

Personal goods
The inspector CANNOT use any equipment to see through or evaluate timber damage inside walls, between timber floors, inside inaccessible roofing areas (particularly those locations without adequate crawl space), inside eaves, behind goods in shelves or cupboards, or in other locations that are visually concealed, inaccessible or obstructed.
Insulation present in the roof void areas will conceal structural timbers and often will make inspections of this area unsafe. Total removal of insulation is NOT part of a regular termite or pre-purchase timber inspection (PPI) and is regarded as an invasive inspection and thus a separate contract would need to be agreed to prior to any inspection in order to perform this type of inspection. 
The inspector  WILL NOT perform any other invasive procedures unless an agreement is made and a separate contract is drawn up and signed by both parties.
If the property is occupied then any furnishings or household goods may be need to be moved as they may be concealing timber pest evidence.  You should do some research regarding obtaining a statement from the owner about any termite activity or timber damage to the structures regarding termite history and what treatments for protection have been performed.
It is of vital importance to get from the owner any copies of paperwork that have been issued and of any relevant repairs that have been carried out to the property.
The Scope of Inspections and Reports
Pre-purchase Pest Inspections (PPI) that are in accord with the Australian Standard AS 4349.2-1998 involve the Inspection and Report to be confined to reports on the discovery, or non-discovery, of the infestation and/or the resulting damage caused by any subterranean or dampwood termites, borers confined to ones of seasoned timber and also of wood decay fungi (wood rot), that are present on the day and the time of the resulting Inspection.
Termite Inspections that are in accord with the Australian Standard of AS 3660.2-2000 will be only confined to reports regarding the discovery, or non-discovery, of the infestations and/or the damage caused by any subterranean or dampwood termites, borers confined to ones of seasoned timber and also of wood decay fungi (wood rot), that are present on the day and the time of the resulting Inspection.

Borers of any seasoned timber won't be in any way reported on. Wood decay (or rot) will not be mentioned within the report but may be mention in the report as being conducive to termite activity.       
In both types of Inspection the reports will not mention anything about the extent or presence of general pests. Dry wood termites from the family KALOTERMITIDAE and the European House Borer  will be excluded from all Inspections.
The inspections will both have the capacity to report on any evidence of termite treatments or past treatments that are evident. If there is evidence of a past termite treatment or preventative treatment, always try to obtain any paperwork of the same that have been issued.   
Mildew is also commonly known as mould and isn't considered to be a Timber Pest. No reports on the presence or not of mould will be part of any inspection. If you are concerned about mould then your should seek additional advice from a qualified expert.
Limitations of Inspections
Any inaccessible areas of the property will not be reported on as being  infested or not by termites or other timber pests. There are no guarantees of any kind that will report on whether an infestation and/or damage exists or does not exist in any of the inaccessible areas of the property.
No responsibility is accepted, or warranty implied, for any timber damage that may occur as the result of past, current or future termite activity.
Determining the Extent of the Damage
The Reports from A1 Pest Control will always state the timber damage found as being "moderate", "moderate to extensive" or "extensive". The Reports of the inspections will not & cannot state anything about the full extent of any timber pest damage. You will need to consult a building expert to determine the full extent of any timber pest damage.
If there is any evidence of Timber Pest activity or damage in either the structures, trees, stumps or anywhere else within the boundaries of the property or in close proximity, then You must then assume the worst scenario –  that there is a strong possibility that there may be some extent of timber  damage within the structures, and it may be concealed within visually inaccessible areas.
Invasive Timber Pest Inspections
Structural and visually concealed timber damage may sometimes ONLY be revealed when walls and/ or ceilings are taken down and dismantled within the building(s).
Invasive Timber Pest Inspections (separate contracts for these inspections are required) should only be carried out by either a Builder, Architect or Engineer to determine what is the full extent of damage plus the extent of the repairs within the structures.
If Timber Pest activity of termites is found within the grounds of the property or structures, then immediate action MUST be taken to prevent, control and/or destroy termite colonies without delay. 
Extensive termite damage may be present in concealed areas that we can't access visually or with our inspection tools, eg within framing timbers. In all cases where live or dormant termite activity is found within the grounds of the property an invasive inspection is appropriate and strongly recommended.

Timber Damage might only be discovered when all wall linings, ceiling linings or insulation are removed so as to reveal concealed timbers. You agree that while performing invasive timber pest inspections that We nor the person conducting the Invasive Inspection is responsible or in any way liable for any repairs of any type of damage to the structure/s.
A1 Pest Control Complaints Procedure
Any disputes or claims regarding our pest control services or Inspections, Reports, or any alleged act of negligence or omissions on Our part have a dispute process.
Either party may at any time give their written Notice of any disputes or claims to the other party. If any dispute or claim of negligence isn't resolved in writing within 21 days from the Notice then either of the parties may refer any of the disputes or claims to an accredited mediator that is nominated by Us.
This cost shall then be met by both of the parties or it may be as agreed as a mediated settlement.
Should any dispute or any claim not be resolved by this stage in the mediation process then any one of these parties may then refer any dispute or claims to the "Institute of Arbitrators and Mediators of Australia" who will then appoint an accredited Arbitrator who will at that stage legally resolve this dispute by arbitration. The Arbitrator will at that stage determine exactly what costs (if any) each one of the parties are liable to pay.
Third Parties to Inspections and Reports
These Reports from A1 Pest Control will be only made strictly and solely for the use, information & benefit for our Clients. No type of liability or responsibility is held by us whatsoever, whether in contract or any tort to any third party who wholly or in part relies upon the inspection or report. Any third party that does act or rely in any way upon the report will do so with the understanding that it is done so at their own risk.
A1 Pest Control Inspection and Report Definitions
You as our client should read through this section completely so that you can better understand the following definitions of terms used in our inspections and reports. This will help You;
1. Understand what is involved within our services to you as our client
2. The difficulties faced by us as inspectors
3. What is expected from us
4. The meaning within the content of the Report following the inspection
"Access hole" means any hole in the building or structure which allows the inspector entry into an area.
"Active" means any presence of animate live timber pests that are found at the time of inspection.
"Client" means the person or persons who has paid for or is going to later compensate A1 Pest Control for any inspection to be carried out.
"Inactive" means the non-activity or absence of any live timber pests found present at the time of inspection. Evidence such as termite mudding or timber damage may be found nonetheless at the time of the inspection. 
NOTE: it is still very possible that live termites may still be active elsewhere in the near vicinity and termites may still continue to cause further timber damage within other areas of the building structure. It is not possible, without the benefit invasive inspections and further investigation to ascertain for sure whether an infestation is active or completely inactive.
Continued competent and regular termite inspections are always essential in these circumstances.
"Property" refers to various physical elements within a fifty-meter radius from the outer walls of the main building, such as outbuildings, fences, gardens, and trees. It is important to note that no inspection will be conducted on any property located beyond this limit unless explicitly requested in writing.
"Reasonable access" is defined in accordance with AS 4349.3-1998. Access is considered reasonable if it is safe, unobstructed, and meets the minimum clearance requirements specified in the table below. If such clearances are not available, the inspector must have an unobstructed line of sight and be able to reach the area within arm's length. However, destructive or invasive inspection methods are not permissible unless agreed contracts are made up, nor is the movement of furniture or other stored goods. In addition, reasonable access does NOT mean making by cutting man traps.
Access Areas
The access hole to the roof void must be a minimum of 450 x 400mm, while crawl spaces should be at least 600 x 600mm. To reach these areas, a 2.1m stepladder or 3.6m ladder placed vertically against a wall is necessary. When accessing the sub-floor, the minimum access size is 500mm x 400mm, and a timber floor must have a vertical clearance of 400mm to the bearer, joist, or other obstruction. To access the roof exterior, a 3.6m ladder is required.
The report refers to the report provided by the company, partnership, or individual hired to carry out a timber pest or termite inspection. The termite definition used in the report excludes Dry wood termites and includes only subterranean and dampwood termites, which are also classified as Timber Pests. The terms "Our/Us/We" refer to the company, partnership, or individual hired to carry out the inspection, while "You/Your" refers to the party identified as the client, including any agents of that party.
Your Understanding of Our Paperwork
 To ensure a smooth process, we kindly ask that you reach out to us if there are any sections of our paperwork that you find unclear. This can be done by phone or in-person before the service begins. Your failure to contact us indicates your full understanding and agreement with the contents of our paperwork.
By ordering a service, inspection or report, you are indicating that you have read and fully comprehended our paperwork, and that the service, inspection or report will be conducted in accordance with it. Payment will be due upon delivery of the service, inspection or report.
Service and Reporting
Any Services and Reports are for the Client's benefit only and not transferable to a third party. A1 Pest Control reserves the right to assign the Reports/Services to another party with prior written approval from A1 Pest Control.
Payment
All Pest Treatment Fees (GST incl.) are payable in full on the day that the Service is rendered. Please ensure the correct amount is given when payment is cash (the technician does not have change).
Payment by Bank deposit can be agreed upon prior to the Treatment date and the amount has to be paid in full before any work is commenced. If any additional services are added on day of treatment, payment must be received within 3 business days. If payment hasn't been received within 3 business days a $25.00 administration fee will be added. Interest will be charged on amounts overdue for payment at the rate of 2% above the rate charged by A1 Pest Control's Bank for overdrafts under $100,000 from the due date until paid calculated daily. The Client agrees to pay the amount quoted and any additional charges that may apply to the services on the day. Payments by bank card including credit and debit cards will incur a 1% surcharge fee payable by the Client.
Any costs incurred by A1 Pest Control in relation to debt collection for outstanding fees or legal fees will be payable by the Client on an indemnity basis.
What Happens After My Treatment?
In the days after your treatment, you will see less pests, however after 14 days the treatment you will see an increase of activity. This increase of pest activity will last for another 2 weeks as it begins to kill the pests off.
After 5 weeks the treatment will begin to be effective. No warranty services will be carried out until after this period. You should remove all cobwebs 6 weeks after our treatments to ensure the treatment is successful.
Warranty Periods
Most of our treatments come with a very generous warranty period, however due to the nature of some pests, the types of control methods allowed or available and this tropical environment, it is sometimes untenable to offer long warranties or even any warranty at all.  Below is a list of popular services and Warranties.
General Pest Control service including Large Cockroaches, Silverfish, Wasps – 6 month Warranty
German Cockroach Treatment – 6weeks depending on environment.
Ant Treatment – 3 month Warranty
Flea treatments –  6 weeks depending on environment.
End of Lease – Nil Warranty
Rodent Treatment – 3 month Warranty
Bed Bug Treatment – Ni Warranty
Spiders and Flying Insects such as Flies and Mosquitoes – Nil Warranty
Liability
A1 Pest Control accepts no responsibility whether in contract, tort or otherwise, including in relation to negligence, to any third party as a result of the provision of Inspections, Reports, Services or Pest Treatment Report. The Service or report is provided solely for the benefit of the Client only. Consumer Laws apply if the Client is a "consumer" under the consumer law. A1 Pest Control's liability to the Client to remedy is limited to the remedies under the Consumer Law.
Privacy
The Client authorises A1 Pest Control, its employees, technicians and related entities, pursuant to the Privacy Act 1988 (Cth), to use and disclose the Client's personal information, in accordance with A1 Pest Control Privacy Policy, that can be accessed on www.a1pestcontrol.com.au. A1 Pest Control is authorized to use this information to inform the Client regarding new offers, products and services provided by A1 Pest Control and for informational purposes e.g. newsletters.
The Client has the option to opt out of receiving such offers at any time by informing A1 Pest Control.
Entire Agreement
This Agreement contains the entire understanding of the parties and (except for the provisions of the Competition and Consumer Act 2010 or other laws which cannot be excluded or modified by agreement) all other terms representations, conditions, guarantees, undertakings, warranties including liability for negligence which may been implied by law or have any application are expressly excluded to the fullest extent permitted by law.
Governing Law
This Agreement is governed by the laws of the State or Territory where the Service is provided to the Client and all parties involved are subject to the jurisdiction of the courts of that State or Territory.
Our Vermin Eradication Programmes Include: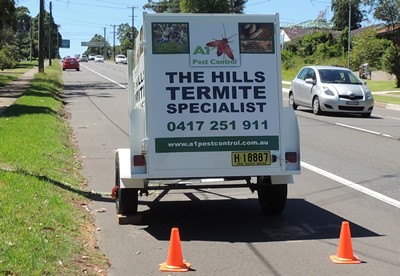 Pest Removal Programs
If you are in need of a custom inspection or pest report, A1 Pest Control can help you out. When you contact A1 pest removing service we guarantee your house is going to be 100% pest free. We leave your house as we found it, minus those pesky pests. Using only ecologically friendly low and non-toxic treatments your house is safe to return to straight away.
A Local Pest Control Service You Can Trust
Are you searching for environment safe pest control? Your family and environment are in safe hands when we service your property or workplace. Solely low or non-toxic solutions are used to manage Termites (White-ants), Spiders, Ants, Cockroaches, Fleas, Bees, Rats & Mice (or Rodents), Wasps, Bedbugs, Feral cats or Possum Trapping, Bird Lice, Carpet Beetles and Silverfish.
We love providing a 5-star service to our clients and offering the best possible service that is effective, budget-friendly, and safe for adults, children, and pets. Contact A1 Pest Control today for your free quote on all pest treatment services, let's get started on removing those pesky unwanted pests, with safe non-toxic treatment methods.
Termite Control
Controlling termites can be a difficult task, for efficient termite control we suggest regular inspections of your property, at least once a year in cooler areas and twice a year in the milder areas of Sydney.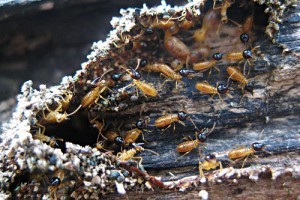 Five Year Warranty
We are so confident of our work that we are able to give a Five (5) Year Warranty to 95% of our termite work for active termites or termite protection as a preventative measure against white ant attack.
It is a condition of the warranty that we regularly inspect completed work so that we can keep track of any changes in the environment.
Please call Bruce, a termite  expert  on 0417 251 911 for any questions about termites.
Termite Inspection

A1 Pest Control service present reports that consists of informative pages and digital photos upon request, that outline the current state of your property.
Termite inspections are designed to detect termites at beginning stages to stop server harm to your house, once your house is inspected and the report is conducted we can then move ahead with termite control and treatment method if there is an issue.
It is highly recommended a termite inspection report is carried out at least once each twelve months and every three to six months for high-risk regions.
Pest Fumigation Service
Fumigation is one of the most effective approaches of termite control in the USA, as they are plagued by dry wood termites that only exist there. Fumigation in America requires the substantial use of toxic chemicals such as Methyl Bromide and tenting off the house for a number of days while the pest treatment takes place.
There are several methods of managing a termite infestation, including baiting, chemical barriers, and fumigation. Don't be deceived by the term "fumigation". This method is rarely used on termite infestations in Australia and is a layman's term used to describe a gassing technique that we don't use (as it is too toxic).
Gone are the days when you were forced out of the family home for hours and even days!
The kind of treatment recommended is reliant on building construction and environmental conditions and depends on the species of termite. Not all techniques work on all kinds of infestation.
If you rent a domestic house or commercial building, it is important to carry out a flea treatment once the lease runs out.
One of the most irritating types of pests in domestic buildings is fleas. The sources of a flea infestation are dogs and cats. "Grass" fleas or "Sand" fleas are misnomers for what is normally the cat flea, which attacks both dogs and cats. Pets can easily pick up flea larvae, or grown fleas from other animals. They then rapidly transfer them into the home: infesting bed sheets, carpets, rugs, and other parts of the home.
If your domestic or small business property needs end of lease flea treatment, do not hold back to consult with us, a pest control contractor you can trust.
Environmentally Friendly, Low Toxic and Non-Toxic Solutions
Our company offers a 100% guaranteed to keep your home or business place pest-free. At A1 Pest Control we believe in high-quality service and advancement. That is why we use ecologically friendly products that are low-toxic or non-toxic and safe for use in your property. If you need highly accurate thermal termite inspections or pest reports, we are happy to supply them as well.
Throughout the last 42 years, we have developed a track record for keeping our clients happy and pest free, A1 is your go-to pest control company.
Searching for "Pest control Near Me?
In case your residence or business is in the Sydney area (or neighbouring areas) and you need vermin treatment, do not be hesitant to consult with A1 Pest Control.
We are a family business with more than 42 years of expertise in pest control professional services. Our nearby location helps us diagnose your pest problems with confidence. So, if you are looking for 'pest control near me', search no further.
A1 Pest Control offers a complete range of pest control services from termites, ants, rodent treatment, wasp removal, end of lease flea treatments, pest reports, and termite inspections. Find out why A1 Pest Control has excellent Google reviews and carries out child and pet-friendly pest control solutions in teh Sydney Area.
Opening and Closing Times:
Monday 8am–5pm
Tuesday 8am–5pm
Wednesday 8am–5pm
Thursday 8am–5pm
Friday 8am–5pm
Saturday 10am–2pm
Sunday Closed