A1 Pest Control & Termite Inspections
Safe Pest Control Services
Sydney Pest Management
Are you a victim of a pest infestation? Are you having trouble getting rid of ants, rats and mice (rodents) or cockroaches? Are you concerned about the potential damage (and loss of property value to your home) due to a termite infestation?
Safe For Staff, Children And Pets
If your home is in the Sydney Metro area you are probably familiar with pest problems. Beautiful nature, bushland, and parks in your neighbourhood come at the cost of having to deal with rodents like rats and mice or insects like ants, termites, and cockroaches.
A1 Pest Control has been servicing the community for more than 40 years. Our company is a family-run service that is native to the local area and has plenty of knowledge and expertise in working with all kinds of pest problems.
A1 Pest Control uses low-toxic and non-toxic pest control strategies.   
They are customized treatment plans that will get rid of pests in your home or business. 
This will safely prevent near future infestations from taking place. 
Pest Control Services
If your home or business has a pest, we have you covered. Our services cover everything from bed bugs to bees and cockroaches to carpenter arts. Our goal is to remove these intruders as efficiently as possible (with minimal inconvenience to you) around the Sydney region in the Hills, North Shore and up to the Northern Beaches. 
Pest management takes several forms. The first step is to have a professional pest inspector analyse your property. They use a wide range of techniques to pinpoint potential damage or problems, including:
Safe, Low & Non-Toxic Treatments
Having the best pest control services is worth little if the home or business owners cannot return to their building after the pest treatment. This is why A1 Pest Control Sydney uses safe and non-toxic formulas to get rid of termites, fleas, and other insects. Some of the most reliable options include Biflex, Premise, and Termidor for termite treatment.
This safety-forward approach applies to our on-site analysis, too. A1 Pest Control specialists perform thermal termite inspections that use the pest's internal body temperature to locate them. The thermal cameras provide an accurate and safe way to target infestations and treat any problems directly.
Photo: Bruce explaining the benefits of regular termite inspections. Bruce has over 40 years of experience in the pest control field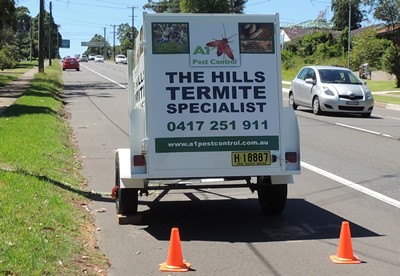 A Local Pest Control Service You Can Trust
If you are searching for 'pest control near me', look no further. You have come to the right place. A1 Pest Control Hills District and Lower North Shore is the name people trust when it comes to inspecting and treating pest infestations at their home and property.
We pride ourselves on implementing professional and customised solutions based on the needs of our customers.
We understand each home and office building is unique. To accommodate the individual structures (and everyone's unique needs), we take the time to listen to our clients and work with them to create a solution that works for their goals, budget, and schedule.
Competitive and Economical Pricing!
Treatment costs will vary depending on the situation. Factors that affect our rate include property size, severity of the infestation as well as the ease of access to problem areas.
To discuss pricing for a treatment ring us on 0417251 911, you won't be disappointed!
Alternatively you can contact us online, send us a message for your free quote or for some advice.
Low Toxic Termite Control 
The threat of termites is not hypothetical. The Australian Institute of Architects reports that 130,000 homes experienced termite damage with the average bill costing $4,500.
Since termites have love eating structural timbers and work 7 days a week, the potential damage can be immense.
Most homes feature a combination of timber structures, supports and furniture.
Termite damage can impact everything from floors to ceilings, including furniture and skirting boards.
But you can nip damage in the bud with low toxic termite control.
A1 Pest Control Hills District minimises the risk for termites by treating soil, installing termite baits, advising to fix leaks and broken pipes, and providing periodic inspections.
There are also chemical and non-chemical treatments to eliminate annoying household pests.
Photo: Tom Rollins, Our Pest Control Technician
Termite Inspection Sydney
As the name suggests, a termite inspection involves identifying termite infestations and diagnosing treatments. A professional inspector will analyze all points of entry into the home to find the root cause of structural damage. That includes looking at the interior and exterior of the house as well as the perimeter.
One key area of inspection is moisture content. The termite inspector will use a gauge to determine how much water is in wooden structures or brackets. Abnormally high levels of moisture may indicate an immediate problem and call for immediate pest treatment.
Fumigation
Fumigation is sometimes used as a layman's term to describe pest management.
Technically it can be described as the process of pumping pesticide into an area with the fumes of chemicals.
We don't use those techniques, though it is used as a process to eliminate drywood termites where they occur outside of NSW and borers in antique furniture. 
Tenants are responsible for their apartment's condition from the start of their lease until they vacate. Therefore, tenants must leave their apartment in a fit state or the property owners can charge additional fees or revoke their security deposit. Make sure your apartment is in the clear with our end of lease flea treatment.
Treating fleas requires professional care and precise execution. Our termite specialists use non-toxic formulas to sprays and exterminate insects, whether they are in the rugs, furniture, carpets, or upholstery. That way, you can be confident that your end of lease transition will go as smoothly as possible.
Environmentally Friendly, Low Toxic and Non-Toxic Solutions
A1 Pest Control Baulkham Hills uses the latest techniques when carrying out pest inspections and treatments.
We utilise both low and non-toxic chemical remedies that are safe for people and pets.
What is the use of successful pest control near me if it renders the home or organisation dwelling unsafe for people to use after?
Our team make your overall health and convenience our highest possible concern, and we do so in a way that is environmentally friendly.
In some situations, for example a job that we did in St George recently, it was necessary to apply a non toxic treatment for cockroaches. 
We achieved this by using hot air to flush the cockroaches out of their hiding places and use sticky traps with a yeast tablet for residual control.
Our staff have rigorous methods and process that will safeguard your health.
You don't need to vacate your house or office during the treatment as no fumes are present and nothing goes into the air.
Looking for "Pest Control Near Me"?
In case you're after pest control in Sydney and you need vermin treatment, do not hesitate to consult with A1 Pest Control experts for your residential or business requirements.
We are a family-owned one hundred percent Australian business with more than 40 years of expert expertise and expertise in pest control professional services.
We love offering our environmentally friendly solutions and our native location helps us comprehend your pest problems much better.
So, if you are looking for 'pest control near me', search no further.
A1 Pest Control offers a complete spectrum of pest control services from termite, ants, and rodent treatment, to end of lease flea treatments, pest reports, and inspections. Find out why A1 Pest Contol near me is the absolute best pest control company in Sydney, NSW.
If you live in the St George area, we recommend our friend Andrew Barnes for any termite inspections or Pest Control Oatley issues in these locations.

A Local Pest Control Service You Can Trust
We are Commercial Pest Control and Termite Treatment experts. We also have experience and accreditation in Tick Control, Rodent Pest Control and Termite Baits. Need urgent help with Termite Inspections Sydney or Flea Treatment Sydney?
Please call Bruce, a termite expert on 0417 251 911 for any questions about termites or emailing bruce@a1pestcontrol.com.au

Frequently Asked Questions
How long will it take?
Treatment times do vary but generally our technicians will be at your property for 30-90 minutes completing a treatment.
What equipment do you use?
We have now acquired the best termite inspection tools in the industry, including a Fluke Thermal Imaging Camera. Few 5 firms in Sydney have this powerful pest management combination! Visual termite inspections alone are only guesswork as the pest inspector can only rely upon sight, tapping timbers with a plastic donger, and moisture meters that pick up moisture readings! We also offer a combined Pest and Building Inspection
Is it environmentally friendly?
Safety, environmental care and customer service are our foremost concerns when treating your home or business.
Do you do termite inspections & reports?
We help stop your problem job from becoming a nightmare! We ONLY use non-toxic and low toxic products to rid your home and business from annoying and damaging pests. call 0417 251 911 for help in most of Sydney's metropolitan area locations.
Bruce Gow
A1 Pest Control Hills District
A1 Youtube
0417 251  911
bruce@a1pestcontrol.com.au
We are now accredited with FipForce 
Opening and Closing Times:
Monday 8am–5pm
Tuesday 8am–5pm
Wednesday 8am–5pm
Thursday 8am–5pm
Friday 8am–5pm
Saturday 10am–2pm
Sunday Closed
Coronavirus Information
Coronavirus (COVID-19) virus safety procedures have been implemented by A1 Pest Control to reduce risks of infection for you as our customer and for our employees' safety:
Our employees are extremely aware about hand hygiene on every visit to dwellings and business work places.
Our employees have been instructed to avoid hand greeting with you as a customer
Our staff will always wear disposable gloves, chemical resistant gloves, and overalls  throughout the visit.
Our staff will always keep a minimum distance of 1.5 meters away from you to avoid any risk of infection
Your wishes of how our staff interacts with you in regards to Coronavirus (COVID-19) virus will be taken seriously. Your patience in this stressful and trying time is appreciated.
For up to date information on COVID-19 kindly refer to the following internet links;
https://www.health.nsw.gov.au/Infectious/diseases/Pages/coronavirus.aspx
https://preview.nsw.gov.au/covid-19/how-to-protect-yourself-and-others