Are you located in Sydney, NSW area and searching for reviews,

Pros and Cons of the best termite bait stations?
The Australian Ultimate Guide to Termite Bait Stations in Sydney
Find out the answer to these important questions below:
Do termite bait stations work?
How long do they last?
What are the best baiting systems?
How far from buildings should they be placed?
Pros and Cons
Reviews
Choice Magazine summary 29 September 2020 Fact Checked
How to get rid of termites
3 types of management:
1. physical barriers
2. chemical barriers
3. monitoring baits and stations.
The Building Code of Australia (BCA) requires new homes and extensions to have termite management system in all states except Tasmania – termite risk is negligible.
Homes built after 1/7/1995 must have a durable notice sticker of treatment fixed in the meter box or entrance to subfloor stating:
1. method of termite management
2. installation date
3. life expectancy of chemical barriers
4. future inspections due
Monitoring and termite bait stations
This option is less toxic that will require 2 to 6 monthly maintenance. Monitoring stations use small amounts of low-toxic Insect Growth Regulator (IGR) that damages their exoskeleton, killing them without affecting other animals and humans.
How do they work?
The pest firm installs a several baiting stations in the grounds of the house.
The stations are checked regularly and when termites commence eating the impregnated bait, more is added to re-activate the station. If timber monitors are used, mixed up bait is used to replenish.
The termites slowly die, taking the bait back to their nest.  Then it is spread throughout the nest via grooming until the colony is finally wiped out.
There is no guarantees that the termites will find the bait, so it is  not a good approach to use this as your only termite management strategy.
How much does it cost?
The cost of treatment may vary from $200 or $300 to thousands of dollars.   It depends on the amount and extent of termite damage. The species of termites matters as well, as some are skittish.
An inspection for an average-sized house may cost around $250–350 ex G.S.T., dependant on size, style & access to the property.
How to Find Good Firms
Phone several local firms. You aren't likely to get pricing over the phone, but should get an impression about the company.  This will include their treatments and price ranges.
Compare the various pest firms and choose the one you are the most comfortable.
Consider the treatments.  The cheapest quote might be only a short term solution, while an integrated strategy may provide more protection from future attacks.
Google reviews and testimonials may be the best way to source an honest and reliable pest company.
Whirlpool
Product Reviews
NOTE: This discussion applies to the use of termite baits in Sydney, NSW, Australia. If you live outside Sydney, NSW, Australia, you should contact your state regulatory authority for relevant, local advice and  information regarding all brands and uses of these termite control systems.
Termite Baits vs Termite Barriers
Termite baits vs termite barriers are a choice for prevention and control of "white-ant" infestations that residents of Sydney are often confronted with.  Traditionally termite treatment on a home is commonly performed with a spray, a liquid termiticide injected into the soil.
Sometimes  there are circumstances where baiting systems may be  the only viable option to a liquid treatment. These are some of the reasons below:
1. A liquid may be useless because of limited areas with soil.  Chemicals can't bond with sandstone, rock or concrete – friable sandy soil is perfect for a termiticide to bond to, but any soil is preferable to none.
2. Environmental concerns. There may be drains or drainage pits around your home exterior or under a concrete area and termiticide (an insecticide that kills termites) could leach into storm water drains, creeks, rivers or underground water reservoirs.
3. Safety concerns.  You may be worried about how toxic a termite spray may be compared to a baiting solution if you have children or pets, or have medical conditions that may be affected by termiticides.
4. Aesthetic reasons where drilling of expensive tiles, slate or carpeted areas would ruin the look of a property.
Which Is the Best Method of Termite Control?
In summary, baits are useful and effective tools for managing termite infestations. Regardless of which product/system is used, they will not work by simply hammering some stations into the ground and walking away. Success requires thoughtful installation and diligent monitoring by an experienced technician, backed by a responsible pest control firm.
Termite Facts
 Termites have been apart of Earths natural life for around 120 million years. They cover about 70 percent of the surface of the land in which there are 2600 different species and 281 different genera.
 Termites are an important food source for other species such as ants, spiders, birds and even humans – as well as assisting in soil structure and nutrient cycling.
They are social insects in the sense that they live in nests as a collective intelligence. They share the jobs between each other having specific roles for working, protection and reproduction with each job falling to a specific caste of termite that's body is specifically built for their role in the nest.
The Workers of the colony will source food and feed the nest as well as taking care of the eggs/young, build and maintain the nest all while being sterile, blind and without wings. the more evolved species will remain workers through the whole cycle of their lives while the more primitive are able to switch roles to either soldiers or reproducers. 
The Soldiers are another aspect of the colony. They are easily identified between the rest of the castes as they generally have larger, coloured heads. their mandibles are heavily specialised for defensive duties to protect the colony against certain predators like ants, though they are known to also scout new places for food and recruit workers to new resources. Soldiers are also blind, sterile and without wings. the soldiers are fed by the workers.
the Reproducers (Alates or flying termites) are the possible king/queens of  fresh colonies. unlike the workers and soldiers, Alates have eyes, are able to reproduce and have wings to fly. They generally tend to swarm around summer months, later in the day and usually before it storms through specific exits called flight cuts. Following swarming the Alates will remove their wings and search for a suitable reproductive partner to begin a new colony although only a small percentage survive. Following mating the king will remain the same size, but the queen will grow into a giant egg laying machine with her body many times larger than her head.  She will pump out hundreds of eggs daily for up to 30 years and remain stationary for the rest of her life being tended to by her workers.
Pest Control Services
We are just a modest family-owned firm, & have always survived in business by a straightforward "secret". That's giving our clients exactly what they are looking for– dependable and trustworthy service at a cost-effective price.
Your "peace of mind" is our task! We have been very successful at treating pests such as Bed Bugs, Bee Removal, Termites, Spiders, Cockroaches & Ants, with our safe and low toxic treatment options
Our Vermin Eradication Programmes Include: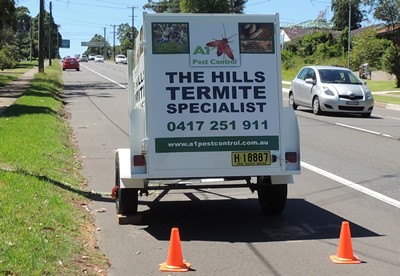 Pest Removal Programs
If you are in need of a custom inspection or pest report, A1 Pest Control can help you out. When you contact A1 us we guarantee that you will get the very best of service. We are punctual, and leave your house as we found it, minus those pesky pests. Using only ecologically friendly low and non-toxic treatments your house is safe to return to straight away.
A Local Pest Control Service You Can Trust
Are you searching for environment safe pest control? Your family and environment are in safe hands when we service your property or workplace. Solely low or non-toxic solutions are used to manage Termites (White-ants), Spiders, Ants, Cockroaches, Fleas, Bees, Rats & Mice (or Rodents), Wasps, Bedbugs, Feral cats or Possum Trapping, Bird Lice, Carpet Beetles and Silverfish.
We love providing a 5-star service to our nearby residents around the Sydney Metro area and offering the best possible service that is effective, budget-friendly, and safe for adults, children, and pets. Contact our team today for your free quote on all pest treatment services, let's get started on removing those pesky unwanted pests, with safe non-toxic treatment methods.
Termite Control Sydney
Controlling termites can be a difficult task, for efficient termite control we suggest regular inspections of your property, at least once a year in cooler areas and twice a year in the milder areas of Sydney.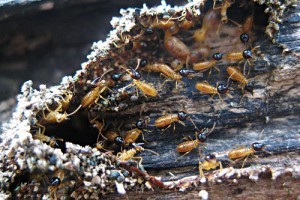 Five Year Warranty
We are so confident of our work that we are able to give a Five (5) Year Warranty to 95% of our termite work for active termites or termite protection as a preventative measure against white ant attack.
It is a condition of the warranty that we regularly inspect completed work so that we can keep track of any changes in the environment.
Please call Bruce, a termite  expert  on 0417 251 911 for any questions about termites.
Termite Inspection
The Sydney area is classified as a high risk for termites. A1 Pest Control produces reports that consist of easily understood information (digital photos upon request), that outlines the current state of your property and how to keep it safe from termite attack.
Termite inspections are designed to detect termites at beginning stages to stop serious damage to your home.  Once your property is inspected we can then move ahead with termite control and treatment if there are any issues.
It is highly recommended a termite inspection report is carried out at least once each twelve months and every three to six months for high-risk regions.
Pest Fumigation Service
Fumigation is one of the most effective approaches of termite control in the USA, as they are plagued by dry wood termites that only exist there. Fumigation in America requires the substantial use of toxic chemicals such as Methyl Bromide and tenting off the house for a number of days while the pest treatment takes place.
There are several methods of managing a termite infestation, including baiting, chemical barriers, and fumigation. Don't be deceived by the term "fumigation". This method is rarely used on termite infestations in Australia and is a layman's term used to describe a gassing technique that we don't use (as it is too toxic).
Gone are the days when you were forced out of the family home for hours and even days!
The kind of treatment recommended is reliant on building construction and environmental conditions and depends on the species of termite. Not all techniques work on all kinds of infestation.
Environmentally Friendly, Low Toxic and Non-Toxic Solutions
Our company offers a 100% guaranteed to keep your home or business place pest-free. We believe in high-quality service and environmentally safe options. That is why we use ecologically friendly products that are low-toxic or non-toxic and safe for use in your property. If you need highly accurate thermal termite inspections or pest reports, we are happy to supply them as well.
Throughout the last 40 years, we have developed a track record for keeping our clients happy and pest free, 
Searching for "Pest control Near Me?
In case your residence or business is in the Sydney Metro area (or neighbouring areas) and you need termite baiting systems, do not be hesitant to consult with A1 Pest Control.
We are a family business with more than 38 years of expertise in pest control professional services. Our nearby location helps us diagnose your pest problems with confidence. So, if you are looking for 'pest control near me', search no further.
We offer a complete range of pest control services from termites, ants, rodent treatment, wasp removal, end of lease flea treatments, pest reports, and termite inspections. Find out why A1 Pest Control has excellent Google reviews and carries out child and pet-friendly pest control solutions in Hurstville Area.
Conclusion
If a professional inspection of your home confirms the presence of termites, some sort of corrective measure is strongly recommended. Your efforts and monetary expenditures are probably best spent on getting the best possible professional service that you can find. Termite control, whether it is through the use of soil-applied liquids, termite bait systems, or other recognized mechanical methods is best performed by a trained and licensed professionals.
For more information see:
Termites – Biology and Control
Tips on Selecting Pest Control Services.
Opening and Closing Times:
Monday 8am–5pm
Tuesday 8am–5pm
Wednesday 8am–5pm
Thursday 8am–5pm
Friday 8am–5pm
Saturday 10am–2pm
Sunday Closed