Having pest control issues in Artarmon? We are a local firm that ONLY uses low toxic effective options against termites, spiders, cockroaches and other general pests. Having 38 years in the industry helps us give you first class service and extremely accurate termite inspections in this cosmopolitan area of Sydney.
The whole area has a charm of its own and is quite trendy.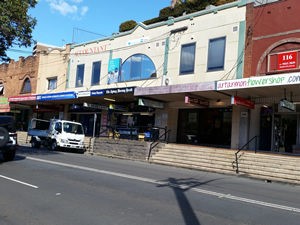 Local Shops
Artarmon is one of the most diverse suburbs on the lower North Shore of Sydney, in
NSW, Australia. Situated just nine kms NE of the CBD, in the LGA of the City of Willoughby.
In Herbert Street is the iconic television station SBS and up until a couple of years ago the ABC was located on the Pacific Highway, at Gore Hill. Fox Sports is now near the Pacific Highway at Gore Hill. The 7 Network and Channel 10 broadcast from Hampden Road. The 9 Network is nearby in of Willoughby.
All in an area of 2.5 kms! The postcode is 2064.
With over 80 happy customers on our Google Reviews business page, we are your number one St George pest control service
It is strongly recommended a termite inspection report is carried out at least once each twelve months and every three to six months for high-risk locations.
You can expect the same well trained technician turning up all the time, so you don't have to explain everything all over again to unfamiliar technicians.
Treatment of ants, cockroaches, spiders, spiderweb removal from fences, windows and protection from 12 additional pests.

Up to 6 months warranty
German Cockroaches treated with cockroach gel of kitchen cupboards
Internal perimeters sprayed around the skirting boards
Roof void and wall cavities dusted with powerful blower using low toxic dust
Spraying of all external perimeters of your home. Includes:
All window frames, door frames, accessible eaves, vents, gutters, downpipes, clothes line area, pergolas, fences, garden perimeter, sheds, swimming pool area, pump housing, barbeque area, cubby house and letterbox.
No extra charge for Saturday work
*Granny Flats or extra large homes may incur additional costs.
If your residence is in the Artarmon or the Greater Sydney Region, you are most likely familiar with pest troubles. Stunning nature, bushland, and parklands in your community come at the price of having to deal with rodents like rats and mice or insects like ants, termites, and cockroaches.
A1 Pest Control has been catering to the Artarmon neighbourhood for more than 38 years. Our company is a family-run service that is native to the local area and has plenty of knowledge and expertise in working with all kinds of pest problems. A1 Pest Control uses low-toxic and non-toxic pest control strategies and customised treatment plans that will get rid of pests in your home or company, and will prevent near future infestations from taking place.