A1 Pest Control Castle Hill NSW
Need some local pest control Castle Hill? We are only 10 minutes from the City Centre, so we know your pest control problems and how to counter them with environmentally safe solutions. We specialise in termites, Castle Hill is well known for termite swarms and subsequent infestations. Here is a short video regarding alates (flying termites).
Winged termites are common at this time of year.
Local home infestation in Dornoch Court.
Mobile evidence provided by our client
Here is our van parked ready to commence another treatment in Ridgecrop Drive.
Worried about rodents (rats and mice)? Check out our latest rodent protection video:
If your home or office is in the Castle Hill area, you no doubt are familiar with pest issues.
Such as rodents (rats and mice).  These rat droppings: 
…are often the first signs that you need rodent control of rats or mice.
Call us today before it gets to this:
Parks in your community encourage rodents like rats and mice or insects like ants, termites, and cockroaches.
We have been in the Castle Hill neighbourhood for more than 40 years.
With over 140 happy customers on our Google Reviews business page, we are your number one pest management service. Call us today for rodent control Castle Hill. Rats in the Hills District suburbs are multiplying: It is recommended that a termite inspection report be carried out at least once each twelve months.  In every three to six months for high-risk locations. The same well trained technician will turn up all the time, so you don't have to explain everything all over again to unfamiliar technicians.
Our technician in this photo is treating this house for bees. In instances where bees are present, we contact a local beekeeper to remove the bees safely from your home. We will only treat the bees if we can't contact any beekeepers. Spider web removal from fences, windows and barbeques.
Before web removal:
After web removal: Most other pest firms don't do this level of service
Up to 6 months warranty
German Cockroaches treated with cockroach gel to kitchen cupboards Internal perimeters sprayed around the skirting boards Roof void and wall cavities dusted with powerful blower using low toxic dust. Spraying of all external perimeters of your home. Includes: All window frames, door frames, accessible eaves, vents, gutters, downpipes, clothes line area, pergolas, fences, garden perimeter, sheds, swimming pool area, pump housing, barbecue area, cubby house and letterbox. No extra charge for Saturday work *Granny Flats or extra large homes may incur additional costs.
Our firm is a family-run professional pest service that is native to the local area and has plenty of knowledge and expertise in working with all kinds of pest problems.
A1 Pest Control uses low-toxic and non-toxic pest control strategies. Customised treatment plans will get rid of pests in your home or company. It will prevent near future infestations from taking place.
Ant Control Services
There are a few methods of getting rid of ants including Optigard ant bait gel. It will successfully reduce a population of ants in a residential or commercial setting.  
We actually leave you extra bait to help control any new ant infestations that arrive in our absence.
Ants feeding on bait
Optigard Ant bait gel

Ants have been successfully treated.
It is not uncommon for pest infestations to occur in vehicles as well as your homes, in this picture the infestation were black ants. We treat the affected vehicles by baiting the ants with a sugar based gel in which they will consume and take back to the nest in which it spreads across the entire colony. we then spray the newest pesticides on the market that most pests havent had time to adapt to. following these steps we will use a bug bomb around the wheel arches, under the cars chasis and most importantly inside the vehicle to eradicate the infestation swiftly.
Spider Control Services
It is important to get a professional company to deal with spider issues. 

Especially when they are in large numbers in and around the home. We provide spider control and also a webbing removal service that is often not provided by other companies.
Spiders and spider webs on fences.

Termite control and treatments

We are experts in providing thermal and visual termite inspections.  We  will locate exactly where your termite problem is located. 


Once we have provided you with a thorough termite inspection report we will then proceed to treat your termite problem through a number of methods.
Pest Control Services
The Castle Hill area in Sydney is one of the most in-demand places for real estate. With around 40,000 people, Castle Hill is a thriving community. The Castle Towers shopping centre offers many different specialty stores as well as a couple of cinemas to go watch movies at.

Full Service Pest Eradication Programmes
Our team offer a 100% guarantee to keep your home or business pest-free. At A1 Pest Control, we believe in premium service and advancement. That is why we use cutting edge services that are low-toxic or non-toxic and safe for use in your property. And if you need custom inspections or pest reports, we are happy to supply them as well.
Throughout the last 40 years, we have built a track record for maintaining our clients happy and pest-free.
Rodent and General Pest Management
Sometimes we are asked to combine our services.  On this occasion we were called to Ridgecrop Drive in Castle Hill.
Unfortunately I don't say this in the video above!
See for yourself – 
Our Vermin Eradication Programmes Include: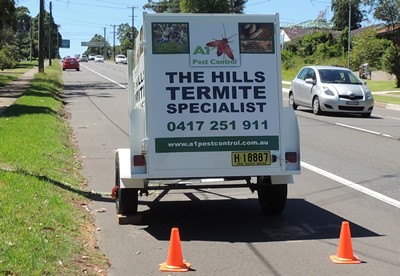 A Local Service You Can Trust
Our Team at A1 are proud to be a 100% Australian-owned service, which is a rarity in our sector. For more than 40 years, we have offered top quality pest control solutions in the Hills area.  As well as Upper and Lower North Shore and the Sydney Northern Beaches areas.
We take enormous enjoyment and pride in providing our nearby community and providing a high-quality pest control service.  It is effective, budget-friendly, and risk-free for adults, children, and pets. If your residence or business needs pest control services, contact us and check out our pest-free assurance.
Commercial Pest Management
Here are some of our commercial pest control clients located in the Hills Super Centre
                                                      Hudson George Restaurant
                                                      Wishbone Rotisserie
                                                      Harvest Bowl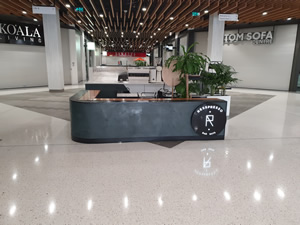 Rexpresso Bar Eats
"White Ant" Control 
Termites, or white ants, are one of the most typical types of pests that you can experience in the Hills area.
See what I mean with this short video about how we look for signs of termite damage when we perform our termite inspections:
Termites form colonies and feed on wood, causing severe residential or commercial property harm. They are one of the most harmful types of pests that can invade your home.  They can considerably reduce its property value or even make it unliveable.
Always keeping your home termite-free and reducing the risk of possible infestation requires an expert solution. 
We will perform routine termite inspections and use effective treatment services.
Protect your home or business and keep them termite-free by calling A1 Pest Control.
Our team are the Termite Specialists.
Termite Inspection Castle Hill NSW
The threats of a termite invasion are very real. On average, 1 in 3 homes in Sydney will suffer considerable damage due to a termite infestation, and almost 60% of all properties in Sydney will at one point have a termite problem.
The only way to protect against a termite infestation is a routine termite inspection by professionals. Termite colonies are notoriously difficult to spot and might cause substantial damage before being discovered. A routine termite examination every 12 months is important for keeping your house termite-free. In high-risk areas examinations should happen each 6 months.
When is the last time you checked your property or organisation for termites? Our trained specialists specialize in highly accurate inspections. Our team even perform thermal termite assessments. Give us a call, and we will be happy to discuss your unique circumstance. Remember, prevention is the best option.
The above video is of an extensive termite infestation at a client's home in Castle Hill. It was found during a renovation, which is pretty common in local homes in this area of the Hills District of Sydney.
If you rent a domestic house or commercial building, it is essential to carry out a flea treatment once the contract runs out.
One of the most annoying types of pests in domestic buildings is fleas. The sources of a flea infestation are dogs and cats. "Grass" fleas or "Sand" fleas are misnomers for what is typically the cat flea, which attacks both dogs and cats. Pets can easily pick up flea larvae, or grown fleas from other animals. They then rapidly transfer them into the home: infesting bed sheets, carpets, rugs, and other parts of the property.
If your residential or small business property needs end of lease flea treatment, do not hold back to consult with us, a pest control business you can trust.
Need effective rodent control? Castle Hill experts have tested and proven methods that are guaranteed to leave your family securely protected for the long term.
Environmentally Friendly, Low Toxic and Non-Toxic Solutions
A1 Pest Control uses hi tech equipment  when carrying out pest inspections and treatments.
We only use low and non-toxic chemical remedies that are safe for people and pets.
What is the use of successful pest control if it renders the home or organisation dwelling unsafe for people to use after?
Our team make your overall health and convenience our highest possible concern, and we do so in a way that is environmentally friendly.
A1 Pest Control has rigorous methods and process that will safeguard your health and enable you to come back to your house or company soon after the treatment method is complete.
Bee control Services

In Australia homes can encounter a bee problem from this beneficial insect. Unlike other pests, bees are an important insect in the pollination of crops. They helping humans to get a food supply. However it does not mean that they can't become pests. Bees can become intruders in or near the home and can be aggressive when disturbed.   They may even attack. This is why it is important to get a professional company to deal with the problem.

We treated a bee problem in Castle hill successfully,
and eradicated the problem for this client.
Looking for "Pest Control Near Me"?
In case you're looking for pest control Castle Hill NSW (or neighbouring areas) and you need safe treatment, look no further.
We are a family owned Australian business with more than 40 years of expertise in pest  professional services.
We love keeping our local clients happy, and our nearby location helps us identify with your pest problems.
So, if you are looking for 'safe pest control near me', search no further.
We offer a complete spectrum of services from termite, ants, and rodent treatment, to end of lease flea treatments, pest reports, and inspections.
Find out why A1 is the safest and most effective pest management company in the Hills.
Please be aware that some pest management firms advertise that they work in the area.
They actually are based much further away.
We are only 10 minutes from the city centre and Victoria Avenue.
Our working hours are from 8am to 5pm Monday to Friday. Saturday is from 10am to 2pm.
Call Bruce directly from 9am to 5pm Monday to Friday. Or 10am to 2pm on Saturday
Bruce Gow
A1 Pest Control
Opening and Closing Hours:
Monday 8am–5pm
Tuesday 8am–5pm
Wednesday 8am–5pm
Thursday 8am–5pm
Friday 8am–5pm
Saturday 10am–2pm
Sunday Closed