A1 Pest Control Beaumont Hills
A1 Pest Control  operating in Beaumont Hills for more than 40 years. 
We are a family owned Australian business with expertise in pest control professional services.
We love offering our local knowledge, as it helps to solve your pest problems faster.
See how we found termites attacking a tree in this area:
Beaumont Hills Rodent Control
Rodents have become a increasing issue in our community. Here's a video on how we treat them.
Beaumont Hills Pest Control Services
With over 120 happy customers on our Google Reviews business page, we are your number one pest control service
It is strongly recommended a termite inspection report is carried out at least once each twelve months and every three to six months for high-risk locations.
You can expect the same well trained technician turning up all the time, so you don't have to explain everything all over again to unfamiliar technicians.
Treatment of ants, cockroaches, spiders, spiderweb removal from fences, windows and protection from 12 additional pests.
Up to 6 months warranty
German Cockroaches treated with cockroach gel of kitchen cupboards
Internal perimeters sprayed around the skirting boards
Roof void and wall cavities dusted with powerful blower using low toxic dust
Spraying of all external perimeters of your home.
Includes:
All window frames, door frames, accessible eaves, vents, gutters, downpipes, clothes line area, pergolas, fences, garden perimeter, sheds, swimming pool area, pump housing, barbeque area, cubby house and letterbox.
No extra charge for Saturday work
*Granny Flats or extra large homes may incur additional costs.
Our team offer a 100% guarantee to keep your home or office dwelling maintained.
At A1 Pest Control, we believe in first class customer service.
That is why we ONLY use products that are low or non-toxic and safe for use in your house. 
Throughout the last 40 years, we have built a solid track record for maintaining our clients properties.
Our Vermin Eradication Programmes Include:
A Local Service You Can Trust
The Hills area currently enjoys amazing popularity.
It is a thriving real estate market.  More than 150,000 people live in the local area, making it one of the biggest areas in Sydney.
Beaumont Hills is one of the suburbs in this beautiful area, home to around 9,000 people. The nearby White Hart Inn Archaeological Site, built in 1827, provides an amazing educational opportunity in the area.
However, its gorgeous surroundings and bush land are a vast breeding ground for pests and rodents.
They can infest any building, including your property or office.
A1 Pest Control Beaumont Hills has served the Hills area for more than 40 years.
Our company completely understand the need for high quality pest control.
If you would like to keep your property or organisation pest-free, give us a shot!
Termite Control 
Termites, or white ants, are one of the most destructive types of pests that you can experience in the Hills area.
Termites form colonies and feed on wood, causing extensive residential or commercial property damage.
They are one of the most economically harmful types of pests.
They can significantly reduce your home's property value or even make it untenable.
Keeping your home termite-free and decreasing the risk of possible infestation requires a specialist solution.
It will require accurate termite inspections and use effective treatment services.
Protect your home or business and keep them termite-free by calling A1 Pest Control Beaumont Hills.
Our team are the Termite Specialists.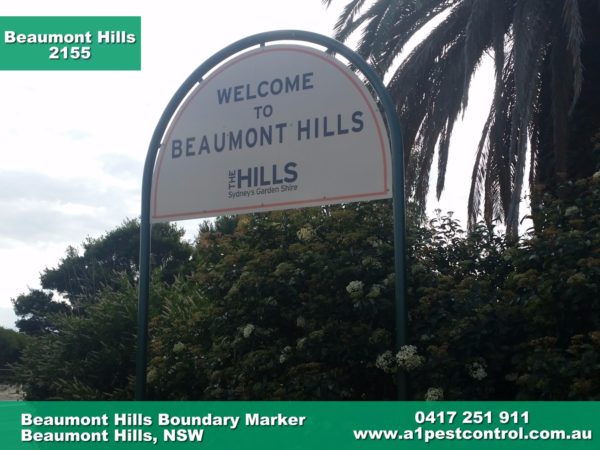 Termite Inspection 
The risks of a termite invasion are very real.
On average, 1 in 3 homes in Sydney will suffer notable damage due to a termite infestation.
Almost 60% of all houses in Sydney will at one point have a termite problem.
The only way to protect against a termite infestation is a routine termite inspection by professionals.
Termite colonies are notoriously challenging to spot and might cause considerable damage before being discovered.
A frequent termite examination every 12 months is vital for keeping your house termite-free.
In high-risk areas examinations should happen each 6 months.
When is the last time you checked your residence or organisation for termites?
Trained experts at A1 Pest Control Beaumont Hills specialise in termite control and inspections.
Our company performs highly sensitive thermal termite assessments.
Give us a call, and we will be happy to discuss your unique circumstance.
Remember, prevention is the best termite control option.
Pest Fumigation Service
Don't be misled by the term "fumigation".
This method is rarely used on termite infestations in Australia.
It is a layman's term used to describe a gassing technique that we don't use (as it is too toxic).
Gone are the days when you were forced out of the family home for hours and even days!
The kind of solution recommended is reliant on building construction.
Also environmental conditions and depends on the species of termite.
Not all methods work on all kinds of infestation.
If you rent a domestic house or commercial building, it is essential to carry out a flea treatment once the contract runs out.
One of the most annoying types of pests in domestic buildings is fleas.
The sources of a flea infestation are dogs and cats.
"Grass" fleas or "Sand" fleas are misnomers for what is typically the cat flea, which attacks both dogs and cats.
Pets can easily pick up flea larvae, or grown fleas from other animals.
They then rapidly transfer them into the home: infesting bed sheets, carpets, rugs, and other parts of the property.
Does your residential or small business property need end of lease flea treatment?
Don't hesitate to contact us, a pest control business you can trust.
A Local Pest Control Service You Can Trust
Our Team at A1 Pest Control are proud to be a 100% Australian-owned company, which is a rarity in our sector. For more than 40 years, we have offered premium pest control solutions in the Hills area, as well as Upper and Lower North Shore and the Sydney Northern Beaches areas.
We take enormous enjoyment and pride in providing our nearby community and providing a high-quality pest control service that is effective, economical, and risk-free for adults, children, and pets. If your residence or business needs pest control services, contact us and check out our 100% pest-free assurance.
Is YOUR office or home protected? Call A1 Pest Control today for complete termite treatment and pest management systems. 
Call or text Bruce today on 0417 251 911 or email for tips,  information, advice and FREE QUOTES on bruce@a1pestcontrol.com.au
Looking for "Pest Control Near Me"?
In case your house or business is in the Beaumont Hills (or neighbouring areas) and you need vermin treatment, do not be reluctant to get in touch with A1 Pest Control.
We are a family owned 100% Australian business near Castle Hill which has a population of 39,594 and Baulkham Hills, which has a population of 37,050. We have more than 40 years of expertise in pest control professional services.
So, if you are browsing for 'pest control near me', search no further.
We offer services from termite inspections, treatment of cockroaches, spiders, ants, and rodent management, to end of lease flea treatments, pest reports, and pre purchase termite inspections.
Find out why A1 Pest Control is a gold seal pest control solution company in the Hills District.
Opening and Closing Times:
Monday 8am–5pm
Tuesday 8am–5pm
Wednesday 8am–5pm
Thursday 8am–5pm
Friday 8am–5pm
Saturday 10am–2pm
Sunday Closed