Local Area Safe Pest Services For Your Office and Home.
Are you searching for help with Pest Control? Baulkham Hills is next door to us (we live and operate in Bella Vista) and has been our service area for over 35 years. We have been successfully treating Bed Bugs, Bee Removal, Termites, Spiders, Cockroaches and Ants, and all with low toxic treatments. They are recognised as "child and pet friendly".
Your home and/or business could be protected by a trusted local firm. We are family owned & have thrived in business by giving all of our customers what they are looking for, a reliable, trustworthy service at a reasonable price.
Termite inspection or rodent treatment required? Get one from your local expert! Call 9am to 5pm Monday to Friday on 0417 251 911 or Saturdays from 10am to 1pm.
Because of the large amount of bush areas in this area, termites are very much active in the area and it is recommended that every home owner in this locality gets their home inspected for termites at least once every 6 months. Termites can enter a home at any time and can cause serious damage in just three months, this means they can be in and out of your home before you know it and leave you with a massive repair bill of up to thousands of dollars. Other pests that are popular in the area include, Cockroaches, Ants and Spiders. Please contact us as the locals in your area on my direct mobile. Ask for Bruce on 0417 251 911.

This area was once known to be home to the aborigines called the Bidjigal People. They were known to occupy all the areas west of Sydney.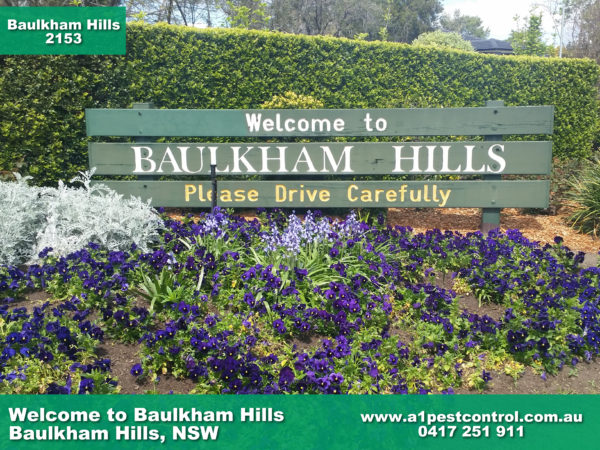 34,000 citizens call this leafy suburb home. At the moment it is mainly accessible by road but with the North West Rail Link opening in the first half of 2019 it will be accessible by train as well linking to Epping station. Three major roads include, Seven Hills Road, Old Northern Road and Windsor Road. They all meet at what is known colloquially as "Baulko Junction". The quickest way to get here from the CBD is via the M2 and taking the Windsor Road exit. The Hills Bus Services services the entire area and offer express routes to the city via the T-way linking to the M2.
A major landmark is the Hills Private Hospital on Windsor Road. There are a fair few parks in the area as well, These park include the Bidjigal Reserve (previously known as Excelsior Reserve), Sophia Doyle Reserve and the Crestwood Reserve.
For more information about Hills district demographics call the council from 9am to 4pm Monday to Friday.
Crestwood
This locality is a place within our suburb and consists of Crestwood Reserve which has numerous sporting fields, ,BBQ facilities, a Skate park and a large high school where our son Steven Gow went to school as a child. Norwest Anglican Church is adjacent to the high school.
Call us on 0417 251 911 for a friendly chat about your vermin situation