Fluke TiR32 Thermal Imaging Camera
Fluke Thermal Imagers
Fluke TiR32 Thermal Termite Inspection camera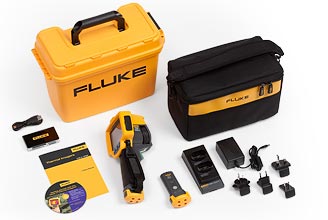 Fluke Thermal
Imaging Camera (Fluke TiR32)
The new line of
Fluke Thermal Imaging cameras bears true to their iconic bright yellow branding
and utilizes the affordable and reliable 320×240 resolution sensor which
includes a dew point alarm. The software they implement is incredibly user friendly
and easy to navigate, while still offering their impressive IR-Fusion
technology and SmartView for easy analysis and report generation. It delivers
clear, concise and accurate pictures (both thermal and standard images)
quickly.
The Fluke
Thermal Imagers (occasionally referred to as Infrared Imagers, Infrared
Cameras, Thermal Imaging Equipment, or Thermal Imaging Cameras) are designed to
take detailed "radiometric" infrared pictures utilizing their own IR-Fusion
technology. A1 Pest Control combines this thermographic imaging equipment with
the reliable Termatrac T3i termite detection tool, which is the most reliable
tool designed for accurate termite detection, to not only discover any termite
damage and workings but also determine which direction they're coming from and
where they're headed! This means that instead of relying on vague guess-work
and estimations you can accurately determine where the termites are active and
how to target them specifically. Our reports also come with visual proof of any
active termites or as a peace of mind measure to give you the "all clear".
Thermal Imaging
is often used as the primary defence measure against termites when used in a
termite inspection. Meaning that predictive maintenance, preventative
maintenance and even building renovations/restorations are as accurate as
possible. When it comes to effectively controlling termites or installing a
termite management system the last thing you want is to be left guessing at how
the termites are gaining access to your property. A successful termite
treatment requires the correct and accurate application of any termite
management system to specific areas.
Thermal Termite Inspection Video
Camera Model Name
FLK-TiR32 60 Hz
Kit Includes:
• Thermal imager with infrared lens
• AC power supply & suitable battery pack charger
• 2 lithium ion easy connectable smart battery packs
• 2 GB SD memory card
• USB memory card reader with multi-format
• SmartView® software – unlimited free software corrections and upgrades for the life of the camera
• Branded yellow hard carrying case
• A soft protective transport bag
• 2 X Adjustable hand straps
• Hard Copy users manual
• and of course our Warranty registration card
Advanced image quality
• The Fluke Thermal Imaging camera produces crisp images with its revolutionary 320×240 sensor.
• Identify small temperature differences with our leading thermal sensitivity system (NETD).
• Automatic alignment of visual photos and infrared images with patented IR-Fusion® technology.
Very Easy to use
• Intuitive, 3 button menu can be navigated easily with thumb pushes.
• Record your findings with every image you take. Your comments are saved the individual images for your records.
• Adjustable hand straps are standard for either left or right hand use.
• May withstand a 2 metre drop without damaging the unit.
• Dust and water resistant.
Temperature
Temperature measurement range  -20 °Celcius to +150 °Celcius
Image presentation
Palettes Include High Contrast, Grayscale, and Grayscale Inverted among a range of other high quality palettes using Ultra Contrast™ .
Image capture and data storage
Voice annotation 60 seconds maximum recording time per image.
A two GB memory card stores at minimum twelve hundred IR & linked visual photos.  Each of them have sixty seconds voice annotations.
Export your favourite file formats with our new SmartView® software in BMP,  DIB, GIF, JPEG, JPG, PNG, and TIFF
General specifications
Operating temperature -10 °C to +50 °C
Storage temperature -20 °C to +50 °C  without batteries
Relative humidity 10 % to 95% non-condensing
Display 9.1 cm (3.6 in) diagonal landscape color VGA (640 x 480) LCD with back-light (selectable bright or auto)
Controls and adjustments • User selectable temperature scale (°C/°F)
• Language selection
• Emissivity selection
• Time/Date set
• Transmission correction
• Reflected background with  temperature compensation
• High temperature alarm

Full reporting software is included and alterable
Batteries: 2 lithium ion rechargeable battery packs
Battery life 4+ hours
2.5 hours to full charge
Weight 1.05 kg (battery included)
Warranty available is 2 years from date of purchase.
Supported Languages include: English, French, Chinese, German, Japanese, Korean, Italian, Polish, Portuguese, Russian, Spanish, Swedish, and Turkish
Call or email us at
bruce@a1pestcontrol.com.au
today on
0417 251 911
for a free, no obligation quote. We are not only reasonable with our pricing, we can provide concise reporting fast!